Trade
mission
to
Russia
is
successful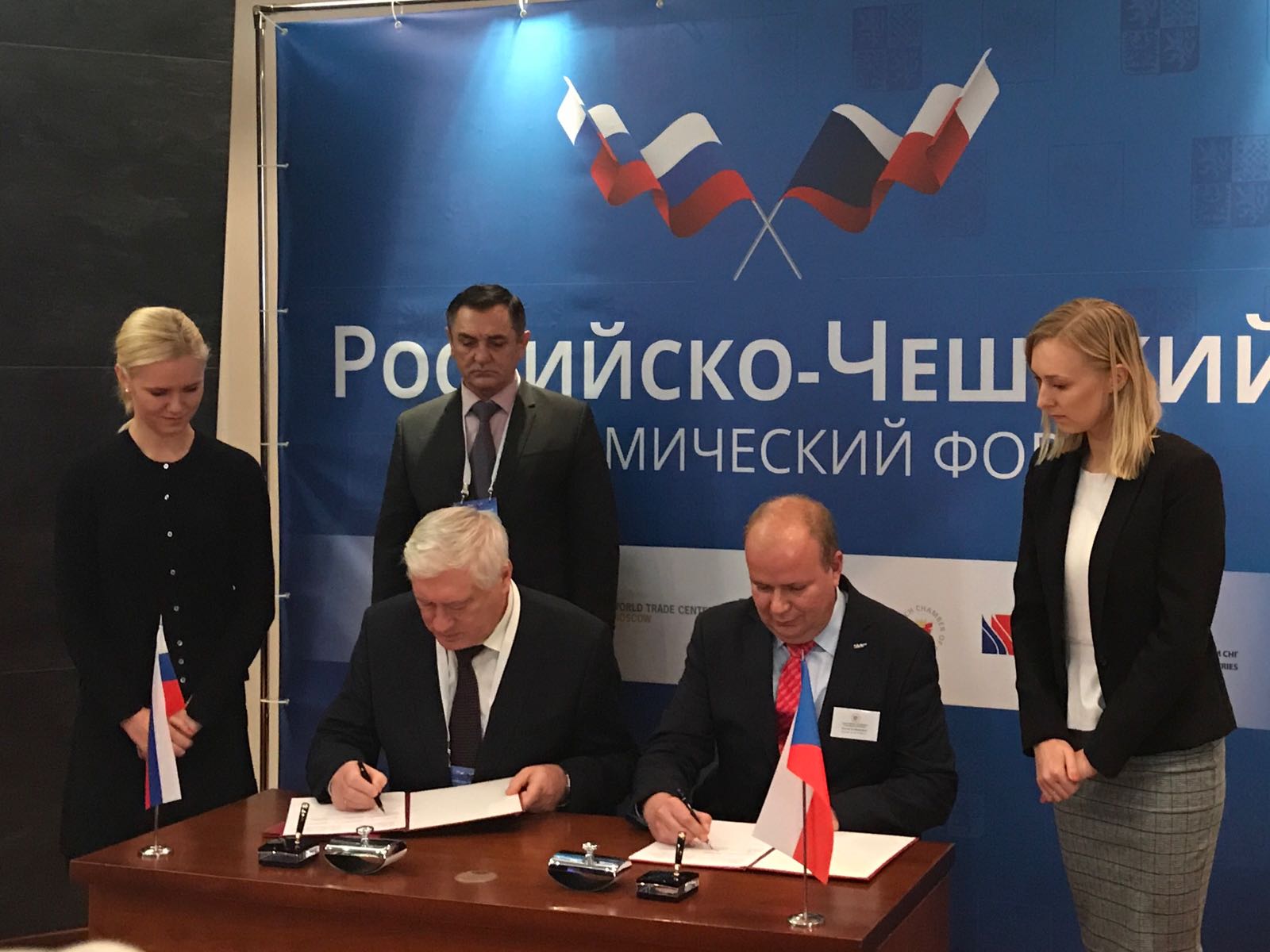 Czech firms signed contracts and agreements for Kc19bn in Russia today, with Zetor Tractors counting on cooperation worth Kc14bn within four years, Confederation of Industry spokeswoman Eva Velickova and Zetor Tractors representatives have said.
Zetor Tractors and Russia's Kovrovsky elektromekhanichesky zavod (KEMZ) will be cooperating on the production of tractors and engines or on the development of new machines.
GE Aviation Czech, producer of turboprop engines, has concluded a contract for engine services, Velickova and the company's representatives told CTK.
The documents were signed at a Czech-Russian business forum, with Czech President Milos Zeman attending the event.
Nine contracts, memoranda and agreements were signed altogether, Velickova said. Another four agreements are to be concluded in Yekaterinburg, the venue of another business forum.
Zetor Tractors and KEMZ are planning four projects, their value being the highest among the deals made in Russia. The Czech firm has been supplying tractor components to Russia where the machines are put together. In 2018-2022, the existing contracts are to be extended to include deliveries of components to make 1,000 tractors a year, Zetor Tractors board member David Kollhammer, who signed the deal, told CTK. Zetor is also seeking cooperation in the development and production of more powerful tractors which are in demand in Russia.
GE Aviation Czech has closed a deal with UZGA company (Ural Works of Civil Aviation) on an authorised service centre for H-series engines. The contract is worth USD65m (Kc1.4bn), Hana Bolinova told CTK on behalf of the firm.
The idea is that the UZGA centre in Yekaterinburg will become a site for overhauls of turboprop engines not only for the Russian Federation but also for the other former Soviet republics now being part of the Commonwealth of Independent States, Bolinova said.
More than 300 GE Aviation Czech engines are currently in operation in Russia. So far their overhauls have been made in Prague, Bolinova said. Similar service facilities are being created in the USA, and the company also has plans to create them elsewhere in the world.
Commenting on the business mission which comprises 140 companies, Confederation of Industry head Jaroslav Hanak appreciated the number and the value of deals made in Russia, describing it as a "historical success" as the country's history has never seen such a strong delegation of Czech businesspeople visiting a foreign country.
Pragoimpex concluded an agreement with Uralvagonzavod providing for cooperation on the modernisation of Czech trams CKD T-3 for Russian cities. Brisk, producer of spark plugs, concluded an agreement on cooperation with the Samara government. Brisk wants to produce sensors for the Russian automotive industry in Togliatti, where it launched spark plug production last year.
Mukharbek Izmailovich Aushev, CEO of Russian company T1, and Daniel Barc, CEO of Job Air Technic, signed a memorandum on creating a centre for aircraft repairs and maintenance at the Czech-Russian economic forum today.
Job Air Technic, whose headquarters are located at the Mosnov airport in the north of Moravia, will take part in the construction and operation of the centre in Ulyanovsk, some 600 km east of Moscow. The centre, to employ 500 people, is expected to provide services for customers from Russia, the Middle East and Eastern Europe.
Construction costs will reach EUR40m (more than Kc1bn), and the hangar is scheduled to launch its operation in the third quarter of 2019, Andrej Cirtek, spokesman for Czechoslovak Group, whose part Job Air technici s, told CTK.
Source: ČTK
Gbelec Ondřej
/

section Aktuálně
back