Europe's
green
transition
is
a
herculean
task
for
us
all
European citizens and entrepreneurs predict their future as green, climate-neutral and socially just. But how can we succeed and achieve this under dramatically and fast changing conditions? Will we have the strength and might to put our continent and the rest of world on a path where automakers, steel manufacturers, airlines, electricity producers, cement makers and all our energy consuming industries as well as citizens and households will be able to reduce their carbon footprint drastically? Read joint opinion article of Jaroslav Hanák, President, Confederation of Industry of the Czech Republic, and Pierre Gattaz, President, BusinessEurope.
Our European political leaders have been working on Europe's "Fit for 55" legislation which in concrete terms means that EU countries still have to cut more than 30% of their current CO2 emissions over the coming eight years - as the aim is to cut the EU's greenhouse gas emissions from 1990 to 2030 by minus 55%.
But the invasion of Ukraine by Russia adds a real threat to peace and security in Europe and beyond and it also threatens European businesses and their employees. Companies are facing massive energy market price increases and far-reaching negative consequences, while at the same time, we must now speed-up all our joint efforts to secure alternative sources of energy supply as well as of critical raw materials and components.
The herculean task facing us all is clear: creating quality growth and a climate-neutral future simultaneously, while protecting our companies, citizens and employees against the new threats. But how do we get there and achieve this in a socially and economically workable manner?
Europe's green transition means for our businesses a massive expansion of green mobility based on lithium batteries, hydrogen and renewable fuels, while rapidly reducing emissions of petrol and diesel cars at affordable costs for households and without destabilising governments all over Europe. It means a massive renovation wave of buildings, transformation of infrastructures and electrification of industrial processes that could more than double global power demand until 2050, while securing alternative sources of energy supply.
It means strengthening carbon emission pricing via the EU's Emission Trading System without killing millions of jobs in the steel, aluminium, cement or chemical industries, which are at risk of being transferred outside of the EU where lower climate ambition allows cheaper, but not necessarily more sustainable production.
This all might sound like mission impossible, but politicians and businesses can square this circle, if the conditions are set right. First, we need to increase public support and speed up permitting and installation timelines for clean energy production and distribution.
Faster permitting will allow us to gradually phase out fossil fuels in the power sector. And we'll need to use all resources - wind turbines, solar power, better grids, nuclear, hydrogen, renewable fuels, gas, energy savings, product innovations – for our energy transition to net zero emissions.
But we must also look at the global situation. Europe emits 8 per cent of the world's CO2 emissions and reduces its climate footprint much faster than other large economies while climate action can only be successful at a global scale. It means, Europe's Emission Trading System needs to keep sufficient free carbon emission allowances available for companies, to avoid harm to our best-in-class EU industries as long as large emitters like the USA or China lack climate ambition.
This is critical, because European firms must have the capacity to invest in their own transformation and to ultimately produce carbon-free steel, chemicals or aluminium. It additionally means a carbon border adjustment mechanism, CBAM, must be tested successfully to help Europe counter carbon leakage and avoid heavy industry re-location to higher-polluting regions.
Without the right instruments, any government in Europe will face job losses and public opposition, especially as many "unknowns" will accompany us to 2030. Will renewable electricity capacity really increase globally by over 60% by 2026 as predicted, the equivalent to the current global power capacity of fossil fuels and nuclear? And will such renewable energy increase be sustained with raw material prices up globally? What will be the long-term impact of today's exceptional situation of energy markets, which are hurting Europe's economy?
To ensure an economically successful transition, we must factor-in the rapidly changing situation and pursue a realistic approach. First, we need a strong industrial base in Europe, with competitive companies. The vast majority of practical solutions to ensure the green transition coming directly from the industry, any measure degrading the competitiveness of European companies would therefore have a negative impact on the ecological transition. Secondly, the Fit for 55 package needs a comprehensive "reality check", feasible timelines and simplifying the new rules must be a priority. Regulatory complexity is indeed the enemy of innovation, and innovation is what we need to provide future solutions to the climate challenge.
Jaroslav Hanák, President, Confederation of Industry of the Czech Republic
Pierre Gattaz, President, BusinessEurope
Key thoughts from this joint opinion article were published by Czech daily MF Dnes on 10. 5. 2022.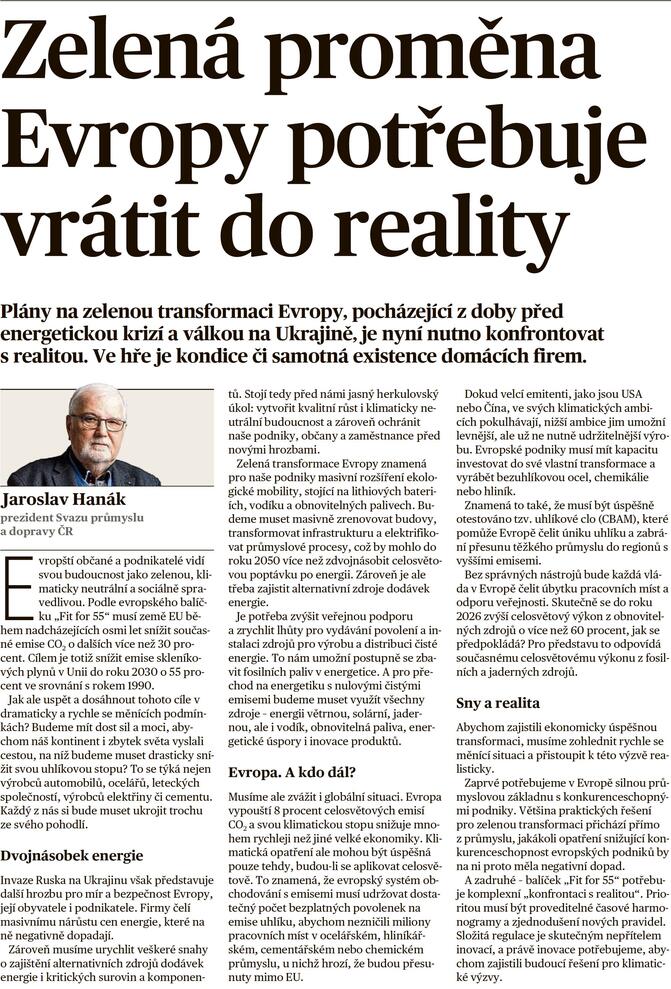 back